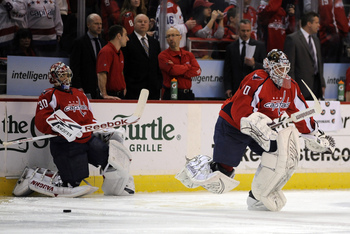 Braden Holtby and Michal Neuvirth sharing duties.
One week training camp, zero preseason games and a forty-eight game schedule makes for a tough challenge for any team to have a successful season and make the playoffs. Of the key factors teams will face this shortened season will be the net minders. With the many schedules that are cramped into this 48 game span, a large number of teams will be faced with 7 to 8 back to back games. It will be key for the back up goaltender to steal a few points here and there for his team.
Rather than looking at it as a number one and number two, the Washington Capitals seem content to share the duties of goaltender on their young talents Braden Holtby and Michal Neuvirth. Both have been capable number one goaltenders for the Capitals in the past. This season, the Caps have seven back to back night games and head coach Adam Oates seems ready to have the goaltending duties shared by both net minders.
"In my mind I think both guys are going to play a lot," Oates said of his goaltending pair. "There is going to be a lot of back to backs, it is going to be a different schedule, so I'd imagine both guys would get a lot of hockey."
"The way the season is going to come it is going to call for both of us to be playing well," Holtby said of the shared duties the tandem will see this season. "I have no idea if there will be a number one or a number two."
The sentiment of both goaltenders being used seems to be radiating around the league. Teams might have an advantage if they can get their goaltending duties split and get consistent results doing that, especially if their back up can steal a game or two in that capacity. It has even lead to some early strategy by teams like the Pittsburgh Penguins who plan on having their tandem work for them in special circumstances.
''You're going to see the goalies be used more not so much based on who we play,'' head coach of the Penguins Dan Bylsma told reporters. ''Each goalie will get his share of games, his number of games.''
A good one two goalie punch can be looked upon as an advantage over other teams that might tend to lean on just one goaltender as they have in the past. Although some have suggested that since it is a shortened season, maybe teams will want to favor their number one goaltender.
"I don't think anybody has a perfect formula," Oates said of the teams' strategies going into a shortened, condensed season. "Everyone is going to try and create one and we're no different. We are going to try to think of everything we can to try to make it right and make sure the guys play their best in a short amount of time."
Points will be at a premium and it is in the best interest for teams around the league to take a point or two with their back up goaltender in net. That would make the tandem of a team's goaltending unit seem more important with this schedule.
"The one thing that is certain," Holtby added, "is that we will both be needed and be needed to win games in order to make the playoffs and put ourselves in a good position."